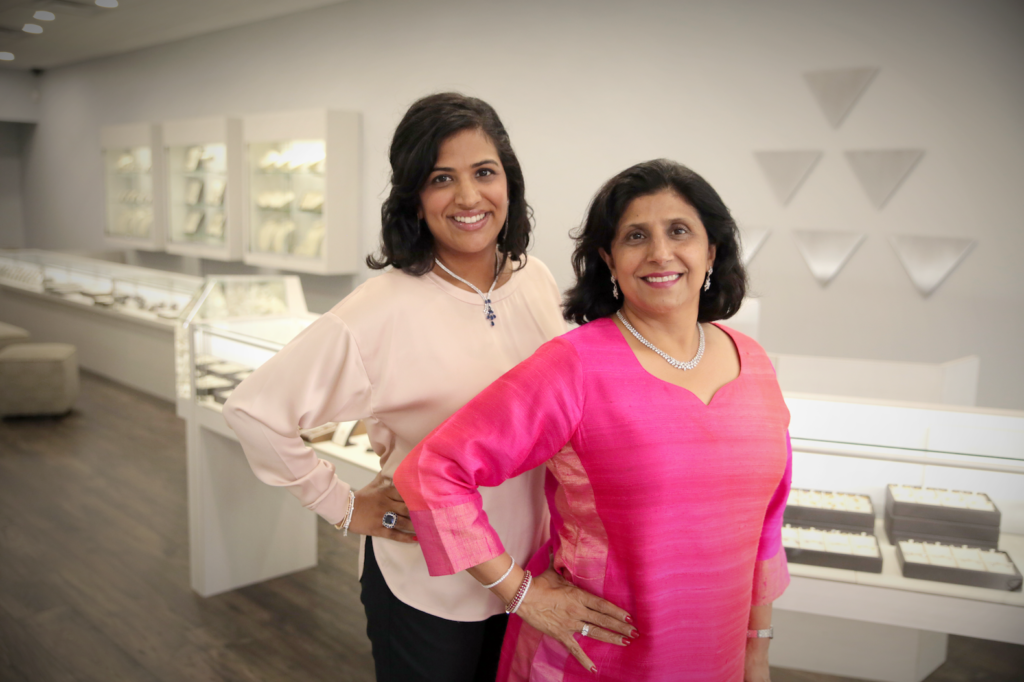 If a picture is worth a thousand words, then an exquisite piece of fine jewelry is too.
Avani Rupa Fine Jewelers got its start around a dining room table, almost twenty years ago. What began as a passion for good jewelry design and sourcing high quality stones, eventually led its way into a gorgeous boutique showroom located in Birmingham, Alabama.
Successfully owned by a mother/daughter team and with a degreed education in GIA Gemology, our pieces reflect a modern style with a nod to our deeply rooted Indian culture and heritage, a unique distinction that is hard to find not only in Alabama, but within the southeast region. Our customers come from all over the globe and our collections speak volumes. Our jewelry lines focus on one-of-a-kind and custom designed gemstone and handcrafted metal pieces. We also offer engagement and bridal sets that can be completely custom made to suit individual taste and budget. No two pieces are ever alike and each are made with careful attention to intricate detail.
We are also known for our personable customer service; well at least that is what many of our customers tell us! Some people like to say that we have been a hidden "go-to" source for fine one-of-a-kind jewelry, while others simply enjoy coming in to visit. We try to treat our customers like good friends. A personalized folio is developed for each customer; we really get to know them – what their preferences are, what speaks to them and their important dates. We've been a part of our customer's lives for many milestones – something we feel is an honor and a privilege. Of course, we also like to feed our customers too, so we enjoy making Saturday visits to our boutique showroom even more special by offering mimosas and sweet homemade Indian snacks.
On behalf of the entire team at Avani Rupa, "welcome" and thank you to our many longtime customers for allowing us to be a part of your lifetime moments. We have such a passion for fine jewelry and a love for what we do. We enjoy sharing it with our customers – our good friends.
With gratitude,
Avani & Rupa
Owners & Mother/Daughter Designers
Address
In the heart of Mountain Brook Village
2408 Canterbury Road
Birmingham, Alabama 35223
Hours
Thursday - Friday
10am - 4pm
Saturday 
10am - 3pm
or by Private Appointment
Be In The Know
We invite you to become a member of our exclusive mailing list. You will always be the first to know about our latest custom jewelry designs, upcoming trunk shows and special events.